Sophie Thomas, a 25-year-old winner of the Open Female Race, said she was happy with the move.
"Our year-round events have been canceled … so it's always nice to see a club go the extra mile to be cautious and let the event go."
Three generations of the Hare family competed in the mixed race, as 83-year-old Bob Hare swam with his son, Andrew, 59, and his grandson Hunter, 20.
This is a popular category that allows people to swim with someone outside of their age group.
Although this is not the first time Bob, Andrew and Hunter have competed in the Classic, it was the first time three generations have been swimming in the same race.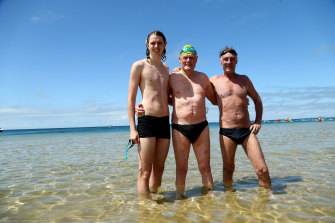 "If my 83-year-old grandfather could do it, I think I could do it," Hunter smiled.
But despite the 63-year gap between grandchildren and great-grandchildren, the competition was still going on.
The trio started together, before Hunter quickly took the lead and crossed the finish line alone, his father and grandfather finished within minutes of each other.
"It was a good swim," Andrew said.
This year the race carries a special meaning for Stuart Jones, 71, and his daughter, Sarah Blackman, 39. The pair, who swam together in the mixed division, crossed the finish line in the arm.
After finishing the race in 2021, Stuart went into cardiac arrest and was left unresponsive.
"[It was] This is the best place to be because there were life savers everywhere, "said Mr Jones.
The event's medical team performed CPR before Stewart was taken to the hospital by ambulance, where he underwent open-heart surgery the next day.
After a few months of rehabilitation, and slowly returning to swimming, Stuart competed again with his daughter and was excited to return just a year later.
"We've had a big year … and it's great to be able to do that a year later," said Mrs. Blackman.
"We agreed not to run in the beginning, but to run in the end. Just walk, "Mr. Jones said.
The Morning Edition newsletter is the most important and interesting story, analysis and insight of our day. Register here.